Second world war
Page
13
Slide 72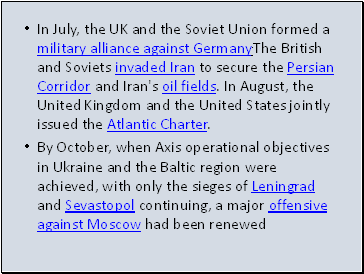 In July, the UK and the Soviet Union formed a military alliance against Germany.The British and Soviets invaded Iran to secure the Persian Corridor and Iran's oil fields. In August, the United Kingdom and the United States jointly issued the Atlantic Charter.
By October, when Axis operational objectives in Ukraine and the Baltic region were achieved, with only the sieges of Leningrad and Sevastopol continuing, a major offensive against Moscow had been renewed
Slide 73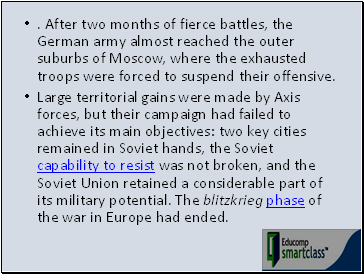 . After two months of fierce battles, the German army almost reached the outer suburbs of Moscow, where the exhausted troops were forced to suspend their offensive.
Large territorial gains were made by Axis forces, but their campaign had failed to achieve its main objectives: two key cities remained in Soviet hands, the Soviet capability to resist was not broken, and the Soviet Union retained a considerable part of its military potential. The blitzkrieg phase of the war in Europe had ended.
Slide 74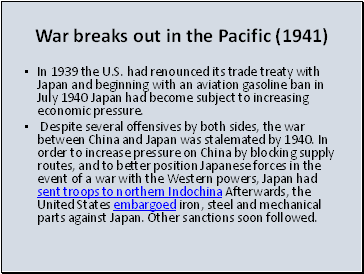 War breaks out in the Pacific (1941)
In 1939 the U.S. had renounced its trade treaty with Japan and beginning with an aviation gasoline ban in July 1940 Japan had become subject to increasing economic pressure.
Despite several offensives by both sides, the war between China and Japan was stalemated by 1940. In order to increase pressure on China by blocking supply routes, and to better position Japanese forces in the event of a war with the Western powers, Japan had sent troops to northern Indochina Afterwards, the United States embargoed iron, steel and mechanical parts against Japan. Other sanctions soon followed.
Slide 75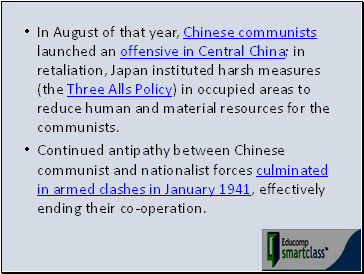 In August of that year, Chinese communists launched an offensive in Central China; in retaliation, Japan instituted harsh measures (the Three Alls Policy) in occupied areas to reduce human and material resources for the communists.
Continued antipathy between Chinese communist and nationalist forces culminated in armed clashes in January 1941, effectively ending their co-operation.
Slide 76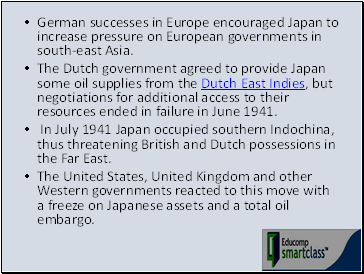 German successes in Europe encouraged Japan to increase pressure on European governments in south-east Asia.
The Dutch government agreed to provide Japan some oil supplies from the Dutch East Indies, but negotiations for additional access to their resources ended in failure in June 1941.
In July 1941 Japan occupied southern Indochina, thus threatening British and Dutch possessions in the Far East.
The United States, United Kingdom and other Western governments reacted to this move with a freeze on Japanese assets and a total oil embargo.