Second world war
Page
16
Slide 86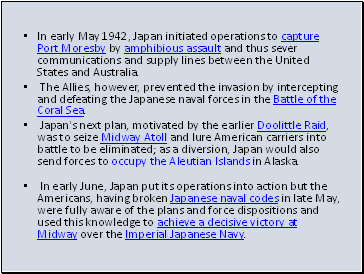 In early May 1942, Japan initiated operations to capture Port Moresby by amphibious assault and thus sever communications and supply lines between the United States and Australia.
The Allies, however, prevented the invasion by intercepting and defeating the Japanese naval forces in the Battle of the Coral Sea.
Japan's next plan, motivated by the earlier Doolittle Raid, was to seize Midway Atoll and lure American carriers into battle to be eliminated; as a diversion, Japan would also send forces to occupy the Aleutian Islands in Alaska.
In early June, Japan put its operations into action but the Americans, having broken Japanese naval codes in late May, were fully aware of the plans and force dispositions and used this knowledge to achieve a decisive victory at Midway over the Imperial Japanese Navy.
Slide 87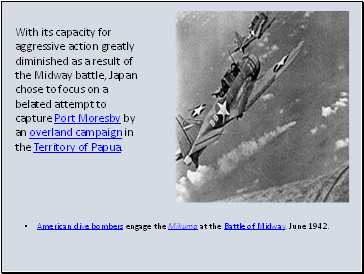 American dive bombers engage the Mikuma at the Battle of Midway, June 1942.
With its capacity for aggressive action greatly diminished as a result of the Midway battle, Japan chose to focus on a belated attempt to capture Port Moresby by an overland campaign in the Territory of Papua.
Slide 88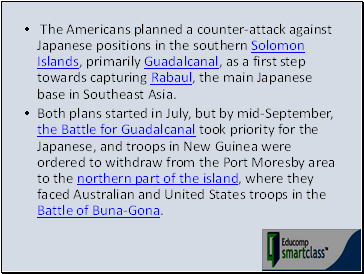 The Americans planned a counter-attack against Japanese positions in the southern Solomon Islands, primarily Guadalcanal, as a first step towards capturing Rabaul, the main Japanese base in Southeast Asia.
Both plans started in July, but by mid-September, the Battle for Guadalcanal took priority for the Japanese, and troops in New Guinea were ordered to withdraw from the Port Moresby area to the northern part of the island, where they faced Australian and United States troops in the Battle of Buna-Gona.
Slide 89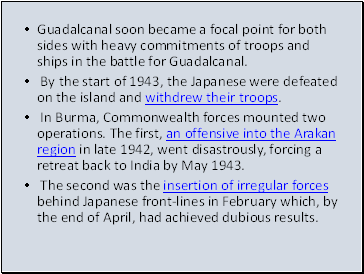 Guadalcanal soon became a focal point for both sides with heavy commitments of troops and ships in the battle for Guadalcanal.
By the start of 1943, the Japanese were defeated on the island and withdrew their troops.
In Burma, Commonwealth forces mounted two operations. The first, an offensive into the Arakan region in late 1942, went disastrously, forcing a retreat back to India by May 1943.
The second was the insertion of irregular forces behind Japanese front-lines in February which, by the end of April, had achieved dubious results.
Slide 90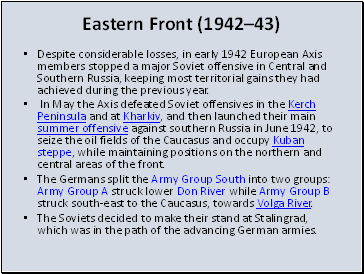 Eastern Front (1942–43)
Despite considerable losses, in early 1942 European Axis members stopped a major Soviet offensive in Central and Southern Russia, keeping most territorial gains they had achieved during the previous year.
In May the Axis defeated Soviet offensives in the Kerch Peninsula and at Kharkiv, and then launched their main summer offensive against southern Russia in June 1942, to seize the oil fields of the Caucasus and occupy Kuban steppe, while maintaining positions on the northern and central areas of the front.