Second world war
Page
4
Slide 21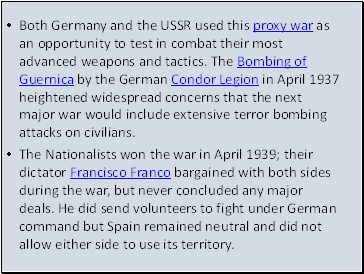 Both Germany and the USSR used this proxy war as an opportunity to test in combat their most advanced weapons and tactics. The Bombing of Guernica by the German Condor Legion in April 1937 heightened widespread concerns that the next major war would include extensive terror bombing attacks on civilians.
The Nationalists won the war in April 1939; their dictator Francisco Franco bargained with both sides during the war, but never concluded any major deals. He did send volunteers to fight under German command but Spain remained neutral and did not allow either side to use its territory.
Slide 22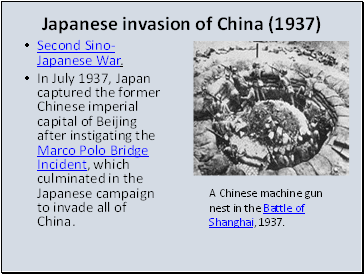 Japanese invasion of China (1937)
Second Sino-Japanese War.
In July 1937, Japan captured the former Chinese imperial capital of Beijing after instigating the Marco Polo Bridge Incident, which culminated in the Japanese campaign to invade all of China.
A Chinese machine gun nest in the Battle of Shanghai, 1937.
Slide 23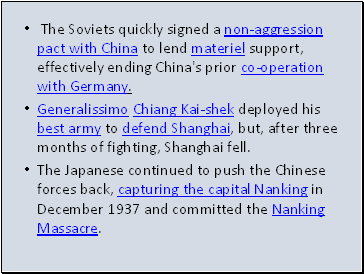 The Soviets quickly signed a non-aggression pact with China to lend materiel support, effectively ending China's prior co-operation with Germany.
Generalissimo Chiang Kai-shek deployed his best army to defend Shanghai, but, after three months of fighting, Shanghai fell.
The Japanese continued to push the Chinese forces back, capturing the capital Nanking in December 1937 and committed the Nanking Massacre.
Slide 24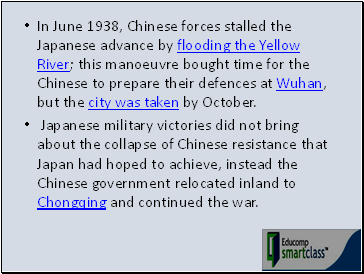 In June 1938, Chinese forces stalled the Japanese advance by flooding the Yellow River; this manoeuvre bought time for the Chinese to prepare their defences at Wuhan, but the city was taken by October.
Japanese military victories did not bring about the collapse of Chinese resistance that Japan had hoped to achieve, instead the Chinese government relocated inland to Chongqing and continued the war.
Slide 25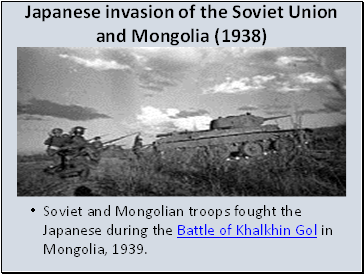 Japanese invasion of the Soviet Union and Mongolia (1938)
Soviet and Mongolian troops fought the Japanese during the Battle of Khalkhin Gol in Mongolia, 1939.
Slide 26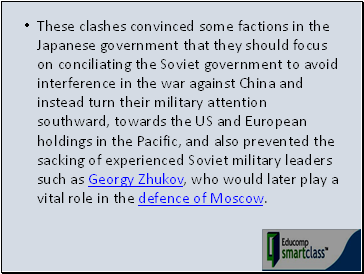 These clashes convinced some factions in the Japanese government that they should focus on conciliating the Soviet government to avoid interference in the war against China and instead turn their military attention southward, towards the US and European holdings in the Pacific, and also prevented the sacking of experienced Soviet military leaders such as Georgy Zhukov, who would later play a vital role in the defence of Moscow.
Slide 27