Second world war
Page
6
The parties gave each other rights, "in the event of a territorial and political rearrangement," to "spheres of influence" (western Poland and Lithuania for Germany; eastern Poland, Finland, Estonia, Latvia and Bessarabia for the USSR). It also raised the question of continuing Polish independence.
Slide 33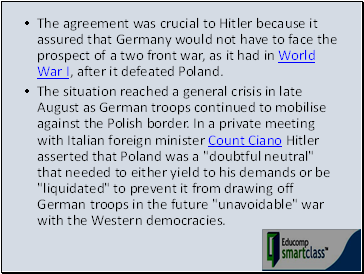 The agreement was crucial to Hitler because it assured that Germany would not have to face the prospect of a two front war, as it had in World War I, after it defeated Poland.
The situation reached a general crisis in late August as German troops continued to mobilise against the Polish border. In a private meeting with Italian foreign minister Count Ciano Hitler asserted that Poland was a "doubtful neutral" that needed to either yield to his demands or be "liquidated" to prevent it from drawing off German troops in the future "unavoidable" war with the Western democracies.
Slide 34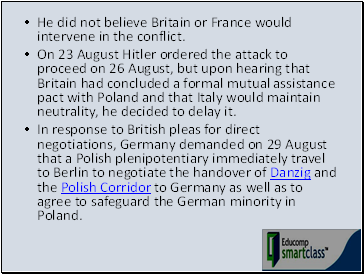 He did not believe Britain or France would intervene in the conflict.
On 23 August Hitler ordered the attack to proceed on 26 August, but upon hearing that Britain had concluded a formal mutual assistance pact with Poland and that Italy would maintain neutrality, he decided to delay it.
In response to British pleas for direct negotiations, Germany demanded on 29 August that a Polish plenipotentiary immediately travel to Berlin to negotiate the handover of Danzig and the Polish Corridor to Germany as well as to agree to safeguard the German minority in Poland.
Slide 35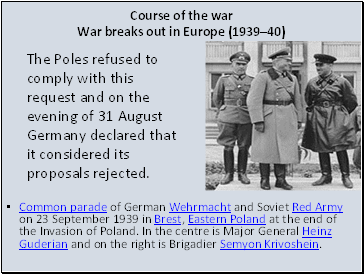 Course of the war War breaks out in Europe (1939–40)
Common parade of German Wehrmacht and Soviet Red Army on 23 September 1939 in Brest, Eastern Poland at the end of the Invasion of Poland. In the centre is Major General Heinz Guderian and on the right is Brigadier Semyon Krivoshein.
The Poles refused to comply with this request and on the evening of 31 August Germany declared that it considered its proposals rejected.
Slide 36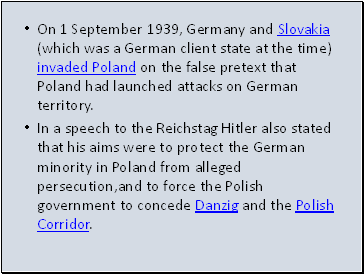 On 1 September 1939, Germany and Slovakia (which was a German client state at the time) invaded Poland on the false pretext that Poland had launched attacks on German territory.
In a speech to the Reichstag Hitler also stated that his aims were to protect the German minority in Poland from alleged persecution,and to force the Polish government to concede Danzig and the Polish Corridor.
Slide 37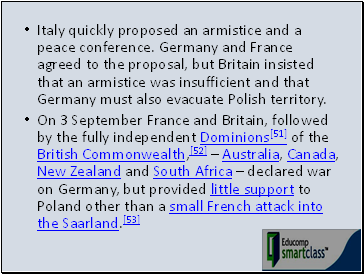 Italy quickly proposed an armistice and a peace conference. Germany and France agreed to the proposal, but Britain insisted that an armistice was insufficient and that Germany must also evacuate Polish territory.