Second world war
Page
21
Slide 110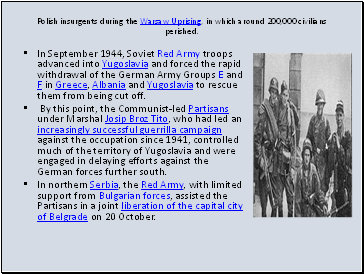 Polish insurgents during the Warsaw Uprising, in which around 200,000 civilians perished.
In September 1944, Soviet Red Army troops advanced into Yugoslavia and forced the rapid withdrawal of the German Army Groups E and F in Greece, Albania and Yugoslavia to rescue them from being cut off.
By this point, the Communist-led Partisans under Marshal Josip Broz Tito, who had led an increasingly successful guerrilla campaign against the occupation since 1941, controlled much of the territory of Yugoslavia and were engaged in delaying efforts against the German forces further south.
In northern Serbia, the Red Army, with limited support from Bulgarian forces, assisted the Partisans in a joint liberation of the capital city of Belgrade on 20 October.
Slide 111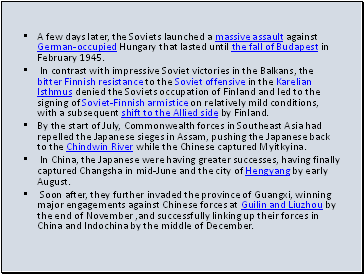 A few days later, the Soviets launched a massive assault against German-occupied Hungary that lasted until the fall of Budapest in February 1945.
In contrast with impressive Soviet victories in the Balkans, the bitter Finnish resistance to the Soviet offensive in the Karelian Isthus denied the Soviets occupation of Finland and led to the signing of Soviet-Finnish armistice on relatively mild conditions, with a subsequent shift to the Allied side by Finland.
By the start of July, Commonwealth forces in Southeast Asia had repelled the Japanese sieges in Assam, pushing the Japanese back to the Chindwin River while the Chinese captured Myitkyina.
In China, the Japanese were having greater successes, having finally captured Changsha in mid-June and the city of Hengyang by early August.
Soon after, they further invaded the province of Guangxi, winning major engagements against Chinese forces at Guilin and Liuzhou by the end of November ,and successfully linking up their forces in China and Indochina by the middle of December.
Slide 112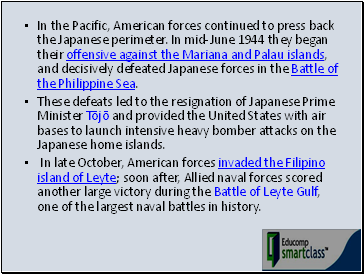 In the Pacific, American forces continued to press back the Japanese perimeter. In mid-June 1944 they began their offensive against the Mariana and Palau islands, and decisively defeated Japanese forces in the Battle of the Philippine Sea.
These defeats led to the resignation of Japanese Prime Minister Tōjō and provided the United States with air bases to launch intensive heavy bomber attacks on the Japanese home islands.
In late October, American forces invaded the Filipino island of Leyte; soon after, Allied naval forces scored another large victory during the Battle of Leyte Gulf, one of the largest naval battles in history.
Slide 113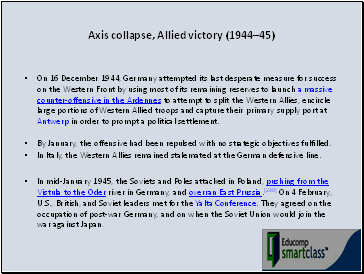 Axis collapse, Allied victory (1944–45)
On 16 December 1944, Germany attempted its last desperate measure for success on the Western Front by using most of its remaining reserves to launch a massive counter-offensive in the Ardennes to attempt to split the Western Allies, encircle large portions of Western Allied troops and capture their primary supply port at Antwerp in order to prompt a political settlement.