Atomic Structure and Periodic Trends
Page
11
3Li – Lithium – remember: can't have s3 (Pauli)
Configuration 1s22s1
Easily ionised to Li+ (1s2)
Alkali Metal
Under standard conditions: lightest metal and least dense element
4Be- Beryllium
Configuration 1s22s2
Be2+ (1s2) stable ion
Alkaline Earth Metal
Toxic: replaces Magnesium from Magnesium activated enzymes due to stronger coordination ability
Slide 91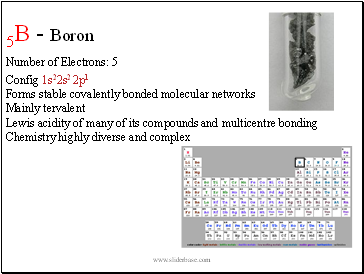 5B - Boron
Config 1s22s2 2p1
Forms stable covalently bonded molecular networks
Mainly tervalent
Lewis acidity of many of its compounds and multicentre bonding
Chemistry highly diverse and complex
Number of Electrons: 5
Slide 92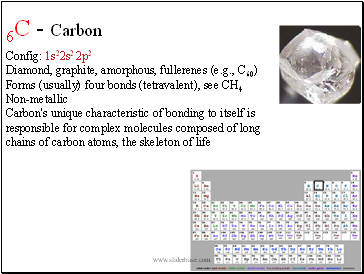 6C - Carbon
Config: 1s22s2 2p2
Diamond, graphite, amorphous, fullerenes (e.g., C60)
Forms (usually) four bonds (tetravalent), see CH4
Non-metallic
Carbon's unique characteristic of bonding to itself is responsible for complex molecules composed of long chains of carbon atoms, the skeleton of life
Slide 93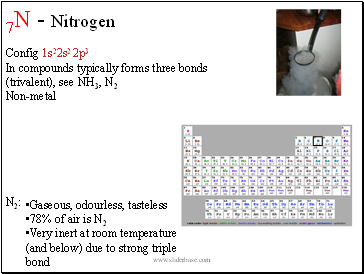 7N - Nitrogen
Config 1s22s2 2p3
In compounds typically forms three bonds (trivalent), see NH3, N2
Non-metal
N2:
Gaseous, odourless, tasteless
78% of air is N2
Very inert at room temperature (and below) due to strong triple bond
Slide 94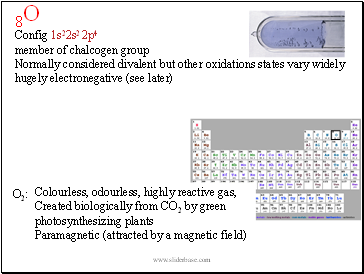 8O
Config 1s22s2 2p4
member of chalcogen group
Normally considered divalent but other oxidations states vary widely
hugely electronegative (see later)
Colourless, odourless, highly reactive gas,
Created biologically from CO2 by green photosynthesizing plants
Paramagnetic (attracted by a magnetic field)
O2:
Slide 95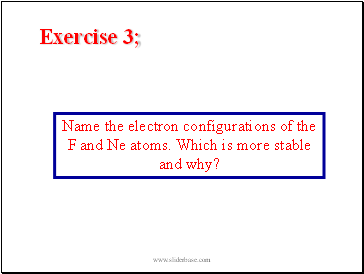 Exercise 3;
Name the electron configurations of the F and Ne atoms. Which is more stable and why?
Slide 96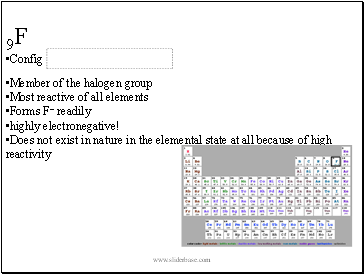 9F
Config
Member of the halogen group
Most reactive of all elements
Forms F- readily
highly electronegative!
Does not exist in nature in the elemental state at all because of high reactivity
Slide 97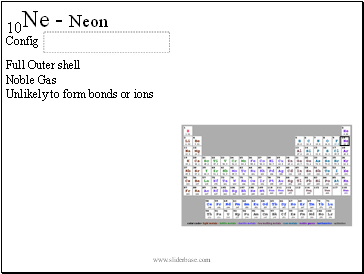 10Ne - Neon
Config
Full Outer shell
Noble Gas
Unlikely to form bonds or ions
Slide 98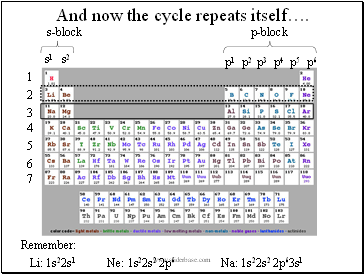 And now the cycle repeats itself….
Remember:
Li: 1s22s1
Na: 1s22s2 2p63s1
Ne: 1s22s2 2p6
1
2
3
4
5
6
7
s1
s2
p1
p2
p3
p4