Chromosome
Page
3
Idiotype: the karyotype of a species may be represented diagrammatically, showing all the morphological features of the chromosome; such a diagram is known as Idiotype.
Slide 15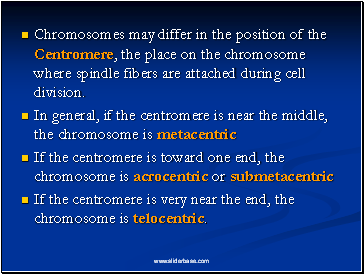 Chromosomes may differ in the position of the Centromere, the place on the chromosome where spindle fibers are attached during cell division.
In general, if the centromere is near the middle, the chromosome is metacentric
If the centromere is toward one end, the chromosome is acrocentric or submetacentric
If the centromere is very near the end, the chromosome is telocentric.
Slide 16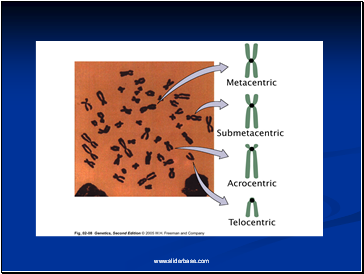 Slide 17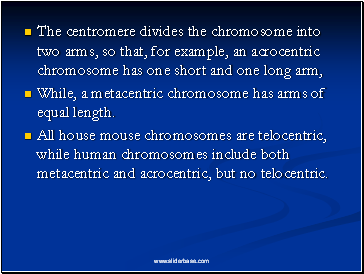 The centromere divides the chromosome into two arms, so that, for example, an acrocentric chromosome has one short and one long arm,
While, a metacentric chromosome has arms of equal length.
All house mouse chromosomes are telocentric, while human chromosomes include both metacentric and acrocentric, but no telocentric.
Slide 18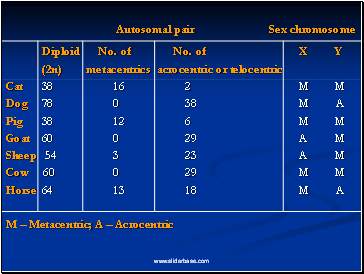 Autosomal pair Sex chromosome
Diploid No. of No. of X Y
(2n) metacentrics acrocentric or telocentric
Cat 38 16 2 M M
Dog 78 0 38 M A
Pig 38 12 6 M M
Goat 60 0 29 A M
Sheep 54 3 23 A M
Cow 60 0 29 M M
Horse 64 13 18 M A
M – Metacentric; A – Acrocentric
Slide 19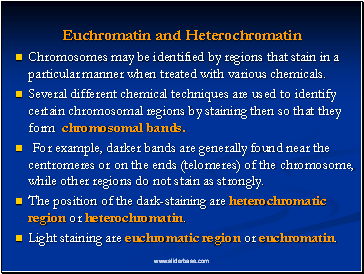 Euchromatin and Heterochromatin
Chromosomes may be identified by regions that stain in a particular manner when treated with various chemicals.
Several different chemical techniques are used to identify certain chromosomal regions by staining then so that they form chromosomal bands.
For example, darker bands are generally found near the centromeres or on the ends (telomeres) of the chromosome, while other regions do not stain as strongly.
The position of the dark-staining are heterochromatic region or heterochromatin.
Light staining are euchromatic region or euchromatin.
Slide 20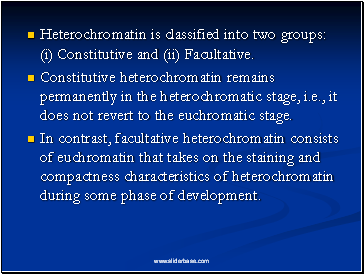 Heterochromatin is classified into two groups: (i) Constitutive and (ii) Facultative.
Constitutive heterochromatin remains permanently in the heterochromatic stage, i.e., it does not revert to the euchromatic stage.
In contrast, facultative heterochromatin consists of euchromatin that takes on the staining and compactness characteristics of heterochromatin during some phase of development.
Slide 21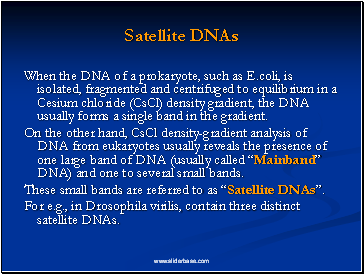 Satellite DNAs
When the DNA of a prokaryote, such as E.coli, is isolated, fragmented and centrifuged to equilibrium in a Cesium chloride (CsCl) density gradient, the DNA usually forms a single band in the gradient.