Chromosome
Page
7
Centromeres and telomeres are two essential features of all eukaryotic chromosomes.
Each provide a unique function i.e., absolutely necessary for the stability of the chromosome.
Centromeres are required for the segregation of the centromere during meiosis and mitosis.
Teleomeres provide terminal stability to the chromosome and ensure its survival
Slide 46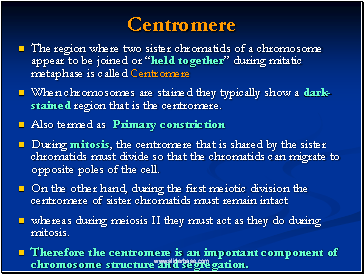 Centromere
The region where two sister chromatids of a chromosome appear to be joined or "held together" during mitatic metaphase is called Centromere
When chromosomes are stained they typically show a dark-stained region that is the centromere.
Also termed as Primary constriction
During mitosis, the centromere that is shared by the sister chromatids must divide so that the chromatids can migrate to opposite poles of the cell.
On the other hand, during the first meiotic division the centromere of sister chromatids must remain intact
whereas during meiosis II they must act as they do during mitosis.
Therefore the centromere is an important component of chromosome structure and segregation.
Slide 47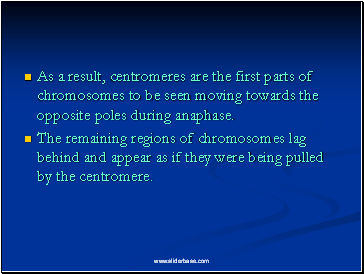 As a result, centromeres are the first parts of chromosomes to be seen moving towards the opposite poles during anaphase.
The remaining regions of chromosomes lag behind and appear as if they were being pulled by the centromere.
Slide 48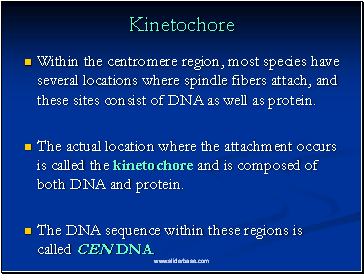 Kinetochore
Within the centromere region, most species have several locations where spindle fibers attach, and these sites consist of DNA as well as protein.
The actual location where the attachment occurs is called the kinetochore and is composed of both DNA and protein.
The DNA sequence within these regions is called CEN DNA.
Slide 49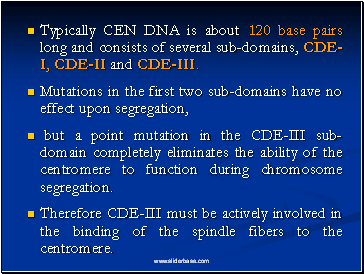 Typically CEN DNA is about 120 base pairs long and consists of several sub-domains, CDE-I, CDE-II and CDE-III.
Mutations in the first two sub-domains have no effect upon segregation,
but a point mutation in the CDE-III sub-domain completely eliminates the ability of the centromere to function during chromosome segregation.
Therefore CDE-III must be actively involved in the binding of the spindle fibers to the centromere.
Slide 50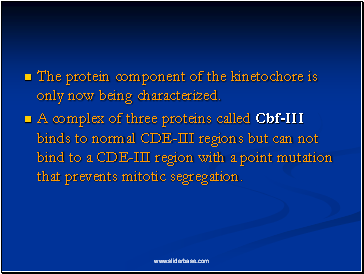 The protein component of the kinetochore is only now being characterized.
A complex of three proteins called Cbf-III binds to normal CDE-III regions but can not bind to a CDE-III region with a point mutation that prevents mitotic segregation.
Slide 51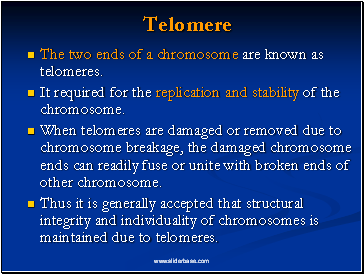 Telomere